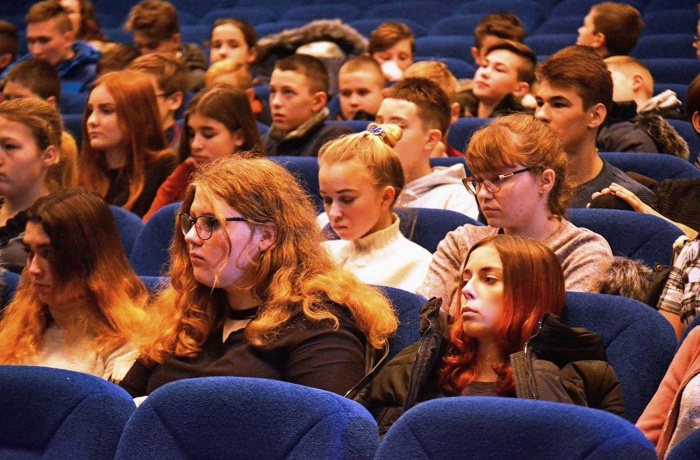 The first screening of the Travelling International Human Rights Documentary Film Festival Docudays UA took place at the Druzhba Film and Concert Hall. A film by the Danish filmmaker Jens Pedersen, Girl Against Gravity, was on the screen.
The audience included students of Olena Pchilka City Lyceum No. 1, Hadyach Agrarian College, Ivan Vyhovsky City School No. 3. The film was about 11-year old Erdenchimeg; her father is in jail, her mother is a former drunk, and there are four children in her family. At 8, the girl, by a happy coincidence, became a student at a circus school. The film is not just about a girl who wants to become a contortionist, but also about motivation: never stop halfway through. "Sometimes I go crazy and want to give it up, but tears won't help. If you want to become a contortionist, you must overcome difficulties," says the film's protagonist.
After the screening, Iryna Orlova, the manager of NGO Center of Culture and Development "Horizon", held an interactive class with the teenagers. The task was to film a public service announcement. The teenagers were divided into three groups, each of them got their own topic for the clip: "Cyberbullying: The concept and its manifestations", "Ukrainian legislation on cyberbullying: Responsibility", "The stages from submitting a complaint to responsibility".
The children who did not become part of the filming crews played the World Cafe—an exercise that helped them learn about cyberbullying and its variations.
"I am very happy that our young people are active. They know how to behave in unexpected situations, they are not afraid of public speaking. The students considered the question of cyberbullying quickly, discussed in detail the situation of how to behave if you've become a victim of bullying," emphasized Iryna.