Yurii Chumak: "Unity of Ukrainians has never been felt so strongly"
Yurii Chumak: "Unity of Ukrainians has never been felt so strongly"
28 November 2022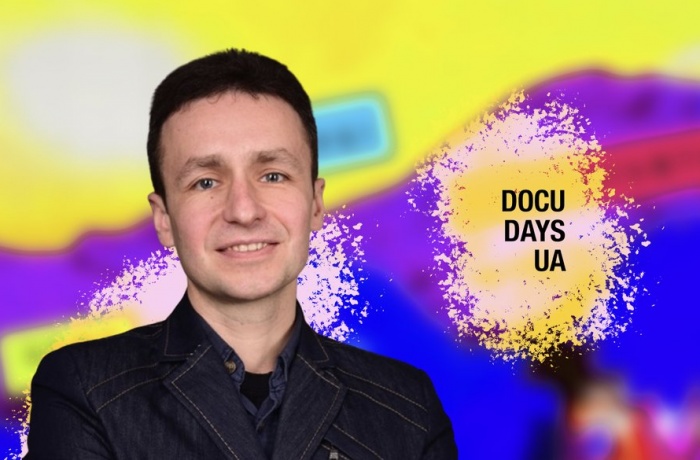 What helps Ukrainians stop tanks with their bare hands and collect millions for bayraktars? The Travelling Docudays UA Festival festival Docudays UA and Suspilne Kultura have prepared ten stories about Ukrainian resilience that will help find answers to these questions.
We are publishing a conversation with Yurii Chumak, president of the Center for Legal and Political Research "DUMA", regional coordinator of the Docudays UA International Human Rights Documentary Film Festival in Kharkiv Oblast. He tells about the opening of the film club, how documentary cinema makes people change, his story of the war and escape with his family from Chuhuiv.
HOW I MET DOCUMENTARY CINEMA
In March 2005, I visited the Docudays UA Festival in Kyiv for the first time. Before that, I was not particularly interested in this genre. Maybe because, at that time, he saw only Soviet popular science and propaganda films, which did not evoke particular emotions. But what I saw on the screen during the Festival awakened an internal discussion. The ability of documentary cinema to include in-depth dialogue, in my opinion, makes it much more interesting than fictional cinema.
According to my observation, you can trace two main values in documentary cinema: right and truth. These values are close to me, as I have been working with human rights all my conscious life. I joined the organisation of Docudays UA film screenings when I worked as a human rights assistant to the Minister of Internal Affairs in the Kharkiv Oblast in 2008-2010. Then I saw firsthand how powerful the influence of documentary cinema is, even on strict law enforcement officers. I remember how the policeman had strong emotions after watching the film The Rug by the Ukrainian director from Kharkiv, Andriy Rokhanskyi. The film tells the story of opposition to police arbitrariness and torture. It had a very positive effect on the majority of viewers in uniform.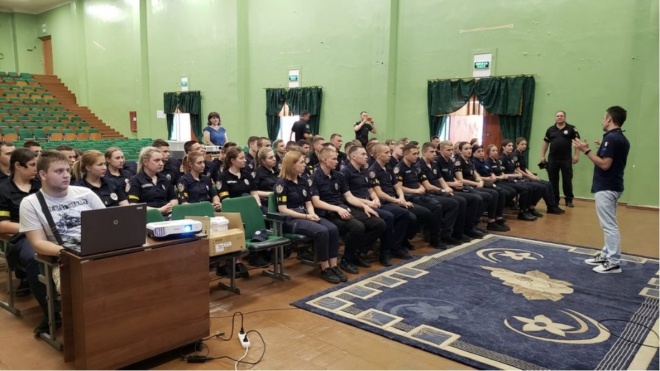 In 2012, I became one of the regional partners (coordinators) of the Travelling Docudays UA International Human Rights Film Festival in Kharkiv Oblast. He decided to do everything to make the Festival popular not only in Kharkiv but also throughout the region. I organised events in various places: schools, libraries, police stations, military units, correctional colonies, etc. And when I worked as the press secretary of the Kharkiv Region Penitentiary Service, I ensured that our films were screened in colonies and pre-trial detention centres.
A DREAM THAT HAS BECOME A REALITY
At the beginning of cooperation with the Travelling Docudays UA in Kharkiv, there were already 3 regional coordinators, and then I decided that I would be in charge of Kharkiv Oblast. Firstly, the public was oversaturated with events in Kharkiv. Before the war, it was necessary to jump above your head to draw attention to cultural events. Meanwhile, the field of events has always been lacking. Secondly, cool initiatives should be scaled as much as possible. That's how I got the idea of holding screenings where documentaries about human rights had never been before. As it turned out later, I was not mistaken.
It is difficult to describe the emotions you feel when you see the enthusiastic people who have come to an abandoned country club for the first time in many years. You feel the same when you bring films to schools and libraries. Once we organised a film screening in a village school. After the screening, we say goodbye to everyone and get into the car. And then we saw children making hearts with their fingers on the windows. Happy, smiling! It was a real event for them.
That's when I experienced our mission in practice: creating opportunities for everyone in Ukraine to watch talented documentaries about human rights.
Over the course of the last two years, I managed to fulfil my docu-dream! This time was, without exaggeration, the most productive and successful for the Travelling Festival in Kharkiv Oblast. What did I dream about? Cover a large number of educational institutions in the region with our screenings. Regional coordinator Anna Smahliuk, who works at the National Academy of State Administration of the President of Ukraine, where the NGO "Kharkiv University Consortium UNIKON" was created, helped to realise the dream. Thanks to the cooperation, we covered more than 10 universities in the region.
That year's festival was 100% "travelling". I found all the active hubs of the region: youth, cultural, NGOs, other institutions, and held screenings there. Festival screenings in the Kharkiv region, organised by "DUMA" Center, took place in 26 settlements. 5,600 viewers watched films from the Docudays UA collection.
I'M OPENING A FILM CLUB!
After several years of working with the Travelling Festival, I began to expand my activities in another area of work: I organised a Docu-club at my NGO Center for Legal and Political Research "DUMA". The first film screening took place on 22 June 2017.
I decided to travel with the Festival not only around Chuhuiv and Kharkiv, and therefore I needed a mobile film club to travel with films around the region. I registered a film club DUMAi (eng., THINK) and was able to hold film screenings not only during the Travelling Festival but throughout the year. Today, the 105th screening took place in the film club. And I don't even mention the number of film screenings held in libraries before the opening of the club.
I am proud that thanks to a large network of contacts, I can help people. I think that this is my strength. Without exaggeration, the Docudays UA Network is like a big family where everyone helps each other. This is a real synergy! When new coordinators learn from experienced ones, and then vice versa. For example, my mentees, whom I passed on my film club experience, now reached the level that I sometimes ask them for advice. This year, I have managed to hold 15 events within the Docudays UA "DUMAi!" film club. In particular, 4 online screenings in cooperation with Zero Waste Academy, were visited by 71 people.
Docudays UA also gave me a best friend, Hryhorii Kurachytskyi, the regional coordinator of the Travelling Docudays UA Festival in Donetsk Oblast. We held joint events many times and gave each other advice. I am friends with Ihor Kofman, a documentary filmmaking professional who taught me a lot. Many others from the Docudays UA team have become my reliable friends and soulmates.
HOW TO TRACK CHANGES?
Any activity should produce clear visible results. But how do you measure your effectiveness in such a special activity? My experience says: watch people. I will explain in stories.
1. This situation happened during the Travelling Festival in the PIXEL hub in Lozova, Kharkiv Oblast. A girl who works at the Free Legal Aid Center came to the screening. She was so interested in everything that was going on! She wanted to implement what she saw and heard, including Docudays UA projects, into her work. I told her about all the possibilities, and after a while, Anastasia opened a film club. I was her mentor last year. Anastasia Kushnir, moderator of the Docudays UA film club at the "My Calling" public initiative, is so passionate about what she does! When it's "hot" in Lozova, she shows films online; when it's calm, she hosts offline events.
2. I temporarily live in Cherkasy now and organise Docudays UA events here. Earlier, I met the women from Cherkasy who work in the field of combating human trafficking. So by 30 July, on World Day Against Trafficking in Persons, we managed to organize a screening of the film Slaves in cooperation with them at the Regional Resource Center for Youth.
The first time the audience gathered thanks to the announcement, and the second time, apparently, word of mouth worked, more people came, and 8 people from a local public organisation. It was a very successful event! I invited Maryna Stadnyk, an expert on combating human trafficking, to the discussion. She told what is happening in Ukraine in the territories occupied by Russia and gave examples. After her speech, one visitor said that a similar misfortune had happened to her relative. And I advised them where to seek help.
I always do this: after a film screening, I don't just leave people with their thoughts and problems, but I try to give advice, and links to useful resources or materials.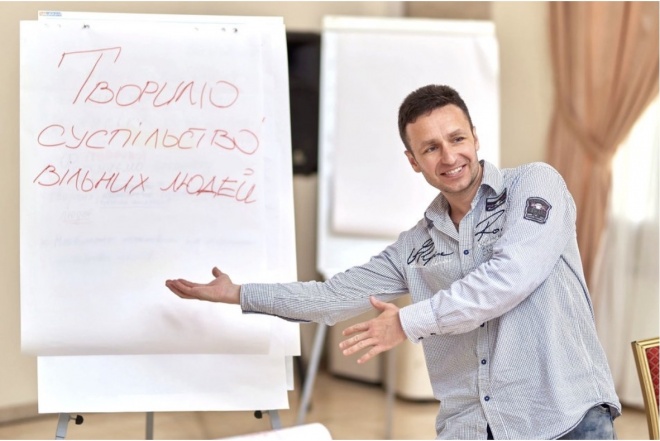 WAR. MONTHS OF MISERIES
Chuhuiv – Bolekhiv
4:30 am on 24 February. I get out of bed in a hurry because of the explosions. As it turned out later, they attacked a military airfield. Chuhuiv, a military town, was one of the first to meet the war. Unfortunately, what we were warned about and did not want to believe turned into reality. From the first day of the full-scale invasion, life became like hell.
Chuhuiv is located northeast of Kharkiv, the Russians passed through us. We actually found ourselves in a 'bag': the city was surrounded from the north, east, and south, and in the west, the orcs were shelling the road to Kharkiv.
Before the war, I read an article about security during military operations. It began like this: "If combat is imminent, you must do everything possible and impossible to avoid being in a combat zone. You must leave." Unfortunately, we didn't. The wife categorically refused because she was taking care of her 82-year-old mother. So we stayed home.
At that time, my daughter was in Kharkiv, in Industrialnyi District, which was also bombed by the enemy. She, her son-in-law, and two granddaughters, aged 7 and 13, spent 12 days in a cellar under constant shelling.
To clarify: from Chuguyev to Kharkiv is 20 km, but even for 10,000 hryvnias, taxi drivers refused to go. One day, the Russians blew up a warehouse with ammunition, which was exploding for 3-4 hours. We counted the explosions hiding in the cellar. It was very scary because we didn't know what it was: whether it was the Russians advancing or they were attacking the city from a distance. I could neither eat nor sleep nor speak. I was constantly thinking about how to get women and children out.
After heavy shelling at the beginning of March, the wife finally agreed to leave. It was not possible to persuade the mother-in-law then. And in fact, my "epic journey" ended only today. [Interview recorded on 12 August, ed.].
On 7 March, we were evacuated from Chuhuiv. Volunteers helped to get to Kharkiv. They drove on some detours. Car windows were covered in order not to expose themselves to danger. At the same time, other volunteers were taking my daughter, granddaughter, and two other friends who were hiding in the basement. They arrived at that railway station, tears were flowing, everyone was scared. I was also crying.
In short, I did not return to my hometown. I felt responsible for each of my six girls. We travelled more than a day due to air raid sirens and stops. We reached Bolekhiv in Ivano-Frankivsk Oblast. They thought of staying, but air raid sirens started there too. The girls fell to the floor and cried. My heart couldn't stand it! There were also rumours that Belarus was about to attack. I decided to send them abroad. Now my relatives live in Germany. They lived in a refugee camp for a month, and now they have settled down, although they cry and want to go home. The granddaughters went to school...
Bolekhiv – Dolyna
Then I moved to the neighbouring city of Dolyna in Ivano-Frankivsk Oblast. There I volunteered at the hospital, helping to unload medications. I also worked as a communications manager and editor, writing articles for their website and social networks. Instead, they offered me to live in a ward for Ukrainian Insurgent Army (urk., УПА) soldiers. I lived there for a month, maybe I would spend more time there, but my mother-in-law and son remained in Chuhuiv. It was necessary to get them out of there.
Dolyna – Poltava
I started planning the move! The team members of the Traveling Docudays UA Network found out that I was looking for a place to stay, and then Tetiana Bilobrova, the former regional coordinator of the Festival in Poltava, offered to stay at her parents' country house. So after a while, I settled there with my son and mother-in-law. Tania also visited my relatives in Germany with gifts.
Poltava – Cherkasy
However, it was a dacha. Dacha in April. It was cold outside. So I was forced to look for warmer housing. I started asking friends again. That's how we ended up in Cherkasy. But after a month, my son and mother-in-law decided to return home. It was impossible to convince them to stay. Soon I went to visit them. I will never forget the 21 June, which became the most terrible day for Chuhuiv: constant heavy shelling and explosions. The rocket hit the bus station, killing 6 people. On the same day, three cluster mines from the Smerch MLRS exploded in my mother-in-law's garden. When I arrived at her place, the explosions started again, and a mine exploded 30 metres from us... The next day, my mother-in-law was evacuated from Chuhuiv and sent abroad to her relatives.
Recently, living in Chuhuiv has become completely unbearable. So today, 12 August, on International Youth Day, volunteers took my son out of the city. By the way, he also often participated in the Travelling Festival as a photographer, he loves documentary films and has a human rights self-awareness... Finally, I can at least breathe a little.
I BELIEVE: THE NEXT STOP IS MY NATIVE KHARKIV REGION
Over six months, I helped many people escape the hell of Russian shelling and find shelter for themselves. I was constantly calling volunteers, giving contacts and advice.
The unity and mutual support of Ukrainians have never been felt so strongly.
Also, during my stay in the west of Ukraine, I was actively engaged in the unloading-loading and sorting of humanitarian cargo going to the east of our country. I cooperate with the Dream and Act project, which assists youth spaces, particularly in Kharkiv Oblast.
What happens next? If I stay in Cherkasy, I plan to hold the Travelling Docudays UA Festival here. And I want to organise some parts, perhaps online, for Kharkiv Oblast. Wherever I am, whatever I do, my activities are always related to Docudays UA.
It's hard to plan when you don't know what tomorrow will bring. The only thing I am sure of is our victory. Everything will be Ukraine! My next stop is my native Kharkiv region!
The interview was recorded by Khrystyna Biliakovska.