For the first time Travelling Docudays UA «stopped» with screenings in Kyiv
For the first time Travelling Docudays UA «stopped» with screenings in Kyiv
08 December 2014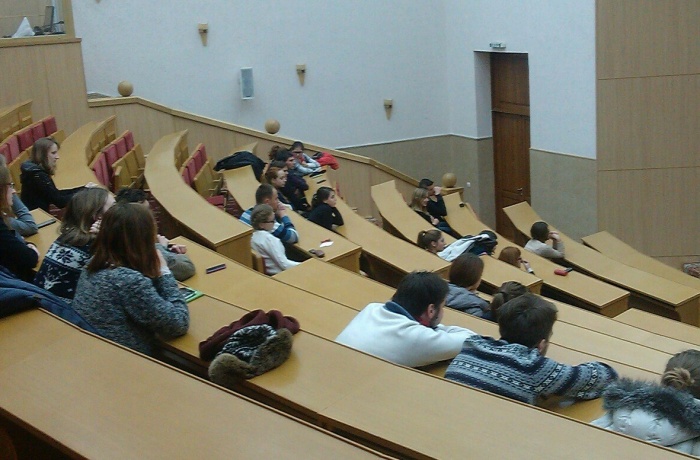 On 2 December the Docudays UA Travelling Festival started in Kyiv. This is for the first time in the festival history that it 'travelled' to the capital. Docudays UA Travelling took place in Yalta for several years but due to pursuit, threat of arrest and kidnapping in the Crimea which was annexed by the Russian Federation, the whole team of the Center for public enlightenment Almenda had to move to Kyiv. Our partners prepared the festival and to the last hoped to organize it in the native town. But now it is impossible. That is why organizational committee of the Docudays UA festival decided to support Crimean activists and to relocate the scheduled screenings to the capital,- explains the change of route Gennady Kofman, the festival program director.
The festival was opened at two places: T.Schevchenko University and Grinchenko University with screenings of films Putin's games and Pussy vs Putin. Both films evoked a heaty discussion. During screening of the film Putin's games the main topic discussed by the audience was the merge where illusion of the game vanishes and realities of a protest arise. Whereas, while discussing the second film the audience attempted to reveal moral borders during protest movements.
Next day the Travelling gathered warm audience in an art-space Chasopys. Much was talked about how to understand the meaning of the expression 'human rights'. Of great use was a film A Diary of a Journey, an ode to human dignity which left a pleasant memory and desire to live not simply to exist. The director managed not only to narrate a story of two men of different generations but also depicted the importance and beauty of each person.
At the same time in Chasopys together with the Travelling audience watched Life in Paradise – Illegals in the neighborhood. The film depicts Swiss society which doesn't want to accept refuges and rejects asylum seekers. Traditionally spectators drew a parallel between Ukrainian events. Audience discussed means to help migrants from Donbass, reasons why they are negatively perceived in th society and how to lead a dialogue with each other.
Screenings and educational human rights events will take place in Kyiv till December, 15. Together with the audience we will attempt to understand what happened to humanistic Utopia which have inspired humankind during the last decades and actions to be taken in order for Ukriane to transform into space where the main value will be human dignity, - explained Olha Skrypnyk, deputy head of human rights coalition 'Crimean field mission on human rights', Head of Center for public enlightenment Almenda.
Next screening will take place on 9 December at 18.00 in the building of psychological faculty at T.Schevchenko Kyiv National University. The program includes Liza, go home! and Joanna.