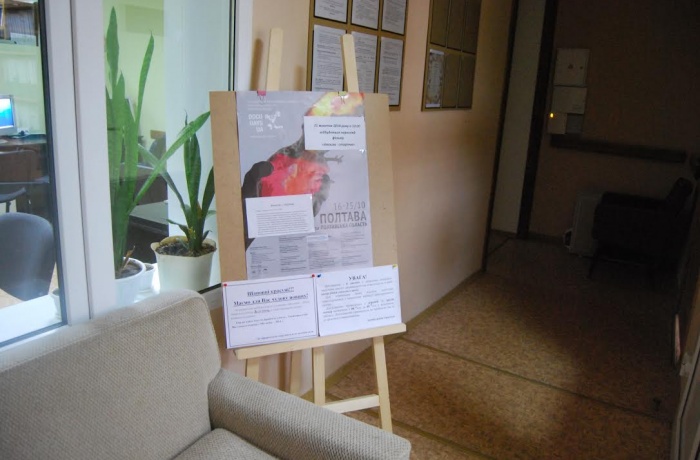 On 25 October in Poltava took place the closing ceremony of Travelling Docudays UA. Festival partners, activists of civic organizations, human rights organizations participants, journalists were present. There was also a workshop for activists who work with forced migrants titled "Interregional dialogue. Conflicts: Prevention means and solutions".
Leaders and activists of civic organizations and movements, forced migrants who reside in Poltava, teachers and youth of Poltava were invited. Workshop participants watched the film Life in paradise – illegals in the neighbourhood, discussed conflicts which appear between forced migrants and local population as well as parallels traced between the current situation in Ukraine and the problems depicted in the film. The purpose of the workshop was to improve relations in the society by means of cinema art and search for means of effective conflicts management. The workshop was held by high quality specialists in conflict management Olena Garan, Natalya Kiryachok and Anna Kiyaschchenko.
On workshop completion as it had been announced there were free screenings during which the audience could watch films The special need and Putin's games. The last film caused a massive outcry among the audience as corruption problems and power lustration remain extremely relevant and important for the city residents. In general this year festival took place in more than 20 locations among which traditionally are comprehensive schools, higher and secondary schools, libraries. Among new partners of particular note are a territorial center for solitary and disabled persons in Poltava, Dykanka regional library for children and Lubny V.Malyk central regional library where screening of the film Amosov – Centenary was an extreme success.