Who Owns the Urban Space: Vinnytsia
Who Owns the Urban Space: Vinnytsia
01 December 2017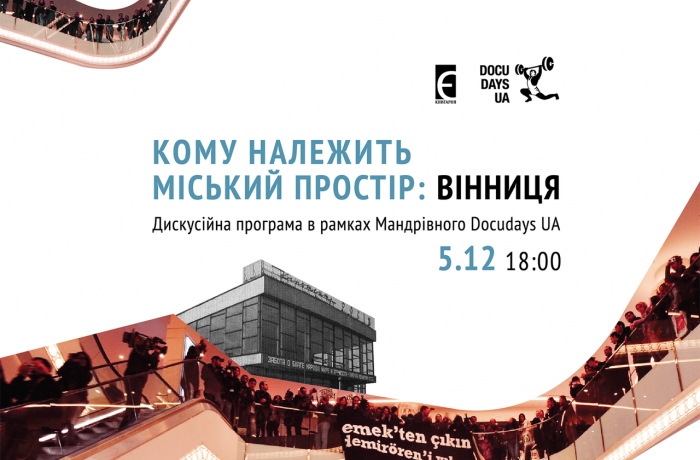 This year, the program of the Traveling Docudays UA festival includes the film Audience Emancipated: The Struggle for the Emek Movie Theater. The history of Istanbul protests is not just a struggle for an iconic place which is important for the citizens. These protests were political, in a wider sense, because they were concerned with the question, Who owns the urban space? They inspired us to start a conversation about the Ukrainian context. By involving local experts, artists, urban researchers, and activists in the discussion, we want to study how public spaces develop in Ukrainian cities, and who influences the changes in public space.
On December 5, at 6 p.m., the Ye Bookstore in Vinnytsia will host the screenings of two films: Audience Emancipated: The Struggle for the Emek Movie Theater and The Winter Garden's Tale by Semen Mozgovy.
Using the occasion of these screenings, we will address the local Vinnytsia context. Despite its leading position in urban infrastructure development, Vinnytsia has some quite serious problems with the understanding of the image and functions of public spaces. The city still has numerous abandoned buildings, such as the Russia Cinema, as well as several areas and parks whose purpose is not clearly articulated by city residents and the municipality.
Active and creative rethinking of such points on the map of Vinnytsia will allow us to avoid future conflict around commercialization of these spaces and rising tensions and protests in the context of city development.
The screenings will be followed by discussions with:
Oleksandr Korotkykh, the director of the Agency for Spatial Development;
Leonid Marushchak, the curator of the art department of the Ukrainian Crisis Media Center, a co-founder of the DE NE DE union;
Alina Dyachenko, the director of the Institute of City Development;
Oleksandr Fedoryshen, historian, the director of the Center for Vinnytsia History.
Moderator: Oleksandr Vesheleni, art-manager at Ye Bookstore.
Location: Ye Bookstore (Soborna str., 89)
FREE ENTRY