We Have Rights! In Transcarpathia, the Travelling Festival Started Together with the Ministry of Justice Information Campaigns
We Have Rights! In Transcarpathia, the Travelling Festival Started Together with the Ministry of Justice Information Campaigns
20 November 2018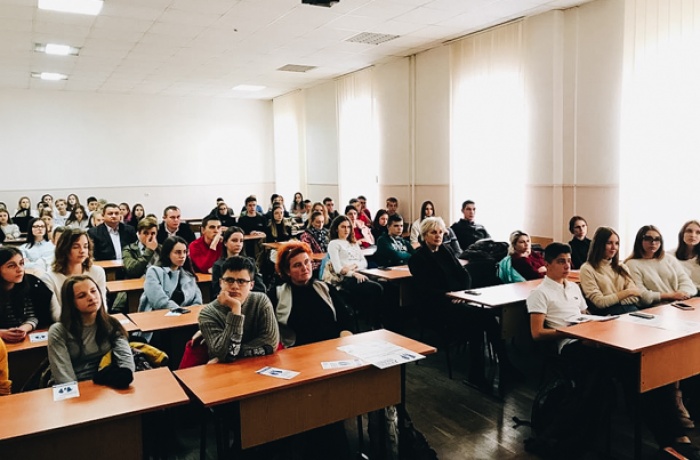 In Uzhgorod, the first screenings of the 15th Travelling International Documentary Film Festival Docudays UA was accompanied by the Ministry of Justice information campaigns. On November 14 and 15, 2018, at the Law Department of the Uzhgorod National University, high school and college students, as well as other residents of the town, had the opportunity to see and discuss the documentaries Silent War and Grown-Ups; in addition, there were the STOP Violence and STOP Bullying information campaigns involving Justice officials.
According to Yevhen Kohutych, the Head of the Main Territorial Justice Administration in Transcarpathia, the Justice Administration has participated in the Festival events in Transcarpathia for several years now. In addition, in his speech, he noted that "The issues of equality, which is the main topic of this year's 15th Festival, are extremely relevant nowadays and in our circumstances, and resonate with the issues important for the Ukrainian Ministry of Justice as a part of the implementation of the national human rights education project I Have the Right!. These issues include bullying in schools, domestic violence, the right of children from single-parent families for decent support, etc. Therefore, the tendency to unite the efforts of civil society organizations, education institutions, and government bodies in shedding light on the topics of equality and the value of human dignity is very positive."
Vladyslav Tovtyn, the head specialist of the Justice Administration, noted that the youth should be the first to get rid of illusions, stereotypes and false beliefs that generate equality based on gender, race or any other characteristic.
Representatives of the Justice Administration also talked in detail about the topic of violence and bullying and distributed booklets on this topic among the audience.
For two days, the participants of the events watched the films and discussed them with great interest.
The film Silent War was very striking for the audience because of the cruelty against women, perpetrated by the military and the government.
After watching the film Grown-Ups, high school and college students discussed the importance of equal treatment of people with disabilities, and the need to reform the education system so that these people could be full members of the society. The viewers even quoted the film's protagonists, saying that, indeed, "life is too short and too hard."