Travelling Docudays UA coordinator Mykhailo Melnychenko: "I work so that nothing is forgotten or lost"
Travelling Docudays UA coordinator Mykhailo Melnychenko: "I work so that nothing is forgotten or lost"
13 December 2022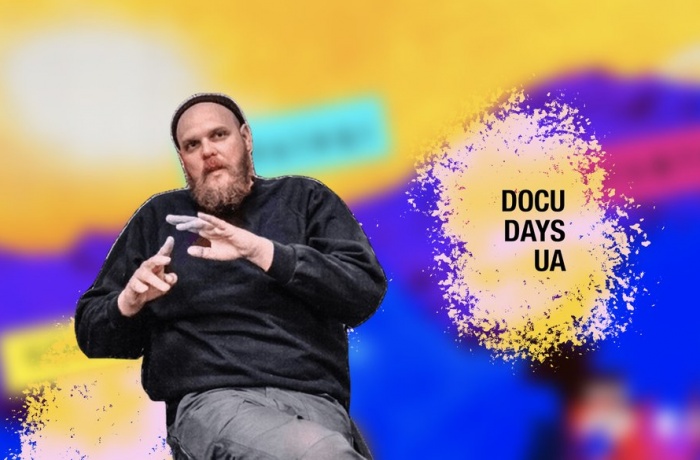 What helps Ukrainians to stop tanks with their bare hands? To fundraise millions for Bayraktar drones? The Travelling Docudays UA and Suspilne Culture have prepared ten stories about the resilience of Ukrainians which will help us find answers to these questions.
This is a conversation with Mykhailo Melnychenko, a photographer, regional coordinator of the Travelling Festival in Zakarpattia Region, and activist of the charity Medical Care Committee in Zakarpattia. He talks about Docudays UA, volunteering, photography as a way to document war crimes, and the Travelling Festival in Uzhgorod.
"It was incredible"
I've always been interested in documentary film, documentary photography, and contemporary visual arts in general. In 2013, the Travelling Docudays UA in Uzhgorod invited Oleksandr Hliadielov, a photographer who is well-known in Ukraine and worldwide. I had been following his work for a while, and the festival was a unique opportunity to talk to him in person. I was still just an audience member back then, and this was something incredible for me. I was fascinated by Docudays UA and its format. And already next year I was working at the festival as a volunteer, helping with technical support.
I remember my first festival as a Travelling Festival team member. We began it once again with an exhibition by Hliadielov, it was after the Maidan, the beginning of the war. He shot his project Can You Hear It, Brother…, dedicated to the events in Ukraine in 2013–14: the Euromaidan and the Anti-Terrorist Operation. Later the exhibition visited many cities in Ukraine, Europe and America.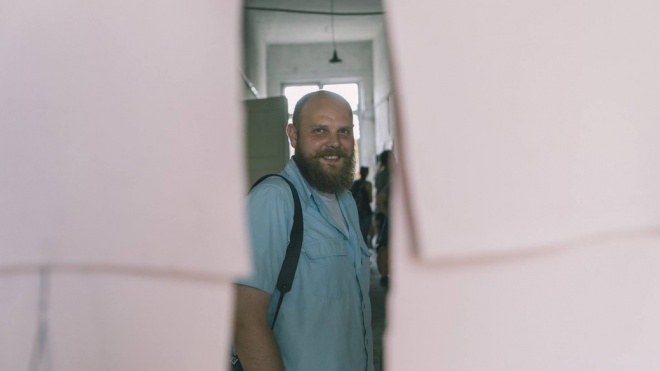 Mykhailo Melnychenko, Travelling Docudays UA coordinator. Photo credit: Mykhailo Melnychenko's archive
The festival was full of impressive performances. The screening of All Things Ablaze, a film directed by Oleksandr Techynskyi, Aleksey Solodunov and Dmitry Stoykov, began with Plyne Kacha, a song by the Ukrainian choir. It took place in a beautiful hall of the ILKO Gallery, and there were black-and-white photos from the Maidan on the walls.
It was such a powerful phenomenon. Cinema, human rights, journalism and passionate discussions were closely intertwined in the Travelling Festival's whirlwind. Documentary films are always about universal human problems, they focus on the subject of human rights. Watching films about how great it is to live in California is not very interesting, but it is interesting to see how California solves or fails to solve its problems with drug abuse or homelessness. Because we also have those problems. Right now our people are interested in films about military conflicts, economic and environmental issues. People want to solve all this mess using constitutional or legal methods, but they have no experience in it, and documentary films show the potential ways to do it. Documentary film is an instrument of education. Strong, powerful instrument.
After the festival we organised, my colleagues from the Medical Care Committee in Zakarpattia noticed that I did a great job and offered me to become a regional coordinator of the Travelling Festival in our region. And so I've been with Docudays for eight years now.
"Many people are now at the front"
As I remember the festival years, I immediately think of the people who were there and helped us implement our ideas and dreams. Many of them are at the front now, and some are prisoners of war, like the famous human rights advocate Maksym Butkevych. He has been a lieutenant in the Armed Forces since March 2022, and on 24 June we found out that Maksym and his fellow soldiers had been captured by Russian occupiers in the Luhansk Region. There has been no news since then.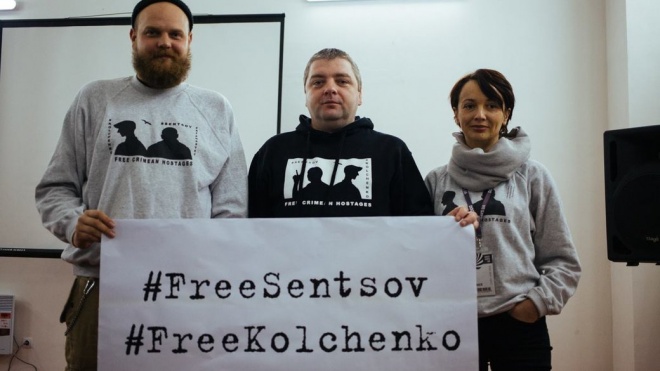 Demonstration in support of Sentsov. Photo credit: Mykhailo Melnychenko's archive
He always visited our festival, spoke at events, moderated discussions. Everyone who has known the Medical Care Committee in Zakarpattia for a while also knows him. He was well-versed in history, the philosophy of human rights, he could explain the most complex things in the simplest words. And he was always ready to defend the vulnerable and the suffering. We are anxious for his release, he remains our friend, our like-minded partner, and just an indispensable part of our organisation.
Already a few days after the full-scale war began, our organisation was receiving the first batches of humanitarian cargo in Uzhgorod, and we are still doing it. We distribute all this aid with the help of our partners among local shelters, and they send it to other Ukrainian regions: Kyiv, Kharkiv, Mykolayiv, Donetsk and Luhansk, Zaporizhia, everywhere where people have an urgent need for food, medicine, hygiene items, clothes, bed linens, etc.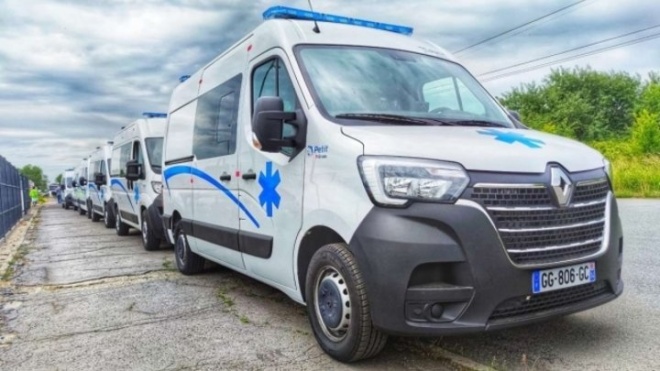 Ambulances brought to Ukraine. Photo credit: Mykhailo Melnychenko's archive
We recently brought 11 ambulances to Ukraine. The initiative was born in Switzerland, where caring people raised the required amount of money. The money was given to our partners of many years, the Umbrella Association. Then our colleagues from France got involved and helped buy the ambulances.
French drivers delivered the ambulances to the border in Slovakia with three car transporters. Ten female drivers and one male driver from Uzhgorod brought them to Ukraine. Then the ambulances went to the cities that urgently needed them: Kharkiv, liberated cities in the Donetsk Region, Chernihiv, Dnipro, and Kyiv.
The organisation is still helping migrants, refugees and asylum seekers in Zakarpattia: our specialists provide legal and psychological consulting, social support, medical aid, especially to vulnerable categories.
Right now I help my NGO as a volunteer and continue working at my day job: I'm a systems administrator, communications manager at Eurocar LLC. Right now the car manufacturing has been reduced, and the company quickly reoriented towards requests for help for Ukraine. Now the company is the biggest humanitarian hub in Zakarpattia where aid arriving from other countries is unloaded.
Tens of thousands of cargo loads every day are sent out to other regions. Big warehouses, professional workers, specialised unloading equipment: all these things are currently working to bring our victory closer.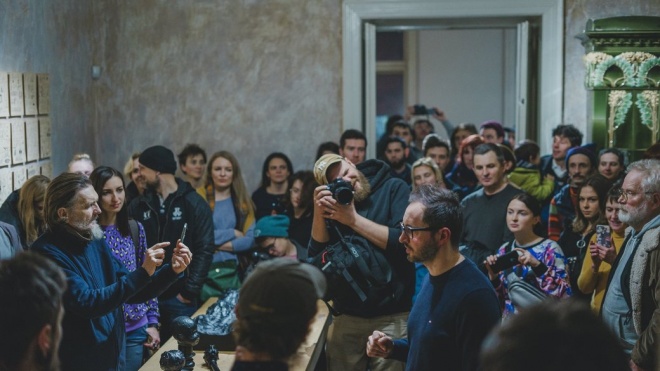 Photo credit: Mykhailo Melnychenko's archive
"Ordinary life in the streets of bombed cities has disappeared, it's been killed"
Back in 2014, when the war began, my photo reporting hobby became my mission to record the truth. I remember one of my first social photo reports with Yevhen Spyrin. We bought tickets to side beds in a third-class sleeping car of the Uzhgorod–Lysychansk train. This route was known as "the train to the war." The longest train route in Ukraine connecting the western and eastern parts of the country. In 36 hours, the monotonous clatter of train wheels takes you from a peaceful city to Lysychansk, a city permeated by war.
We listened to the conversations of passengers along the way, watched people in the car changing and the moods and thoughts changing with them from city to city. And we photographed these people, captured their moods. I took photos, Zhenia wrote. This longread became a sensation, it had thousands of views. It was like a miniature of Ukraine from west to east. Many people are quick to judge others for different opinions, but it is much more difficult to try and understand what circumstances affected their worldviews, what conditions they live in, what air they breathe. But in our country we constantly compete to see who loves Ukraine more, the East or the West. It's important to understand that we are all patriots and try to hear one another. The country's strength is in its unity.

And then I started receiving invitations from various publications, first Babel, then Zaborona, and now I also film stories for the French-German TV channel ARTE.
I recently visited Kharkiv. I prepared a photo report about how Roman, a Territorial Defence fighter, was buried in a common grave in error. A heavy story of a fallen hero whose family cannot say goodbye with dignity.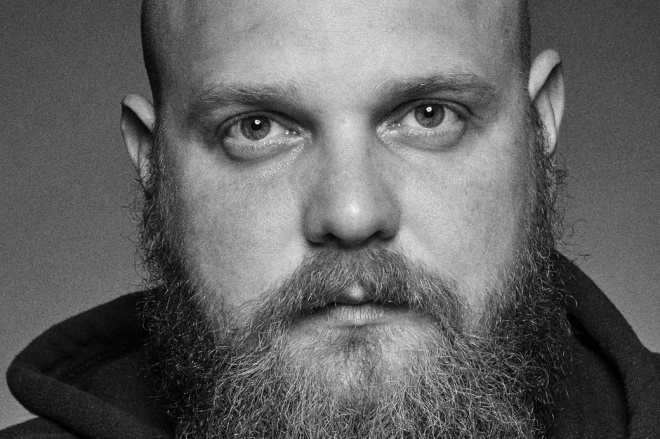 Mykhailo Melnychenko, Travelling Docudays UA coordinator. Photo credit: Mykhailo Melnychenko's archive
There are a lot of conversations and photos of Bucha, Irpin, Izium, and those tragedies are really shocking, but people don't talk much about Saltivka in Kharkiv, even though its story is no less tragic. A new big neighbourhood in a megapolis bustling with interesting life. Now it is full of bombed, burned buildings, the streets are empty, the yards are abandoned. Ordinary life in the streets has disappeared, it's been killed…
I have not taken photos at the frontline yet, but I really want to. Right now I'm looking for resources. I want to document war crimes. I want to capture how the war is changing Ukrainian cities, people's lives. I want nothing to be forgotten or lost, I want all criminals to be punished.
Travelling Festival 2022 in Uzhgorod's "bubble"
The Travelling Festival in Uzhgorod has always involved public events at interesting contemporary locations, galleries, hubs. Maybe this year we will do it in a bunker or the castle. We have always focused on topics that concern a broad audience. We picked interesting speakers and guests who were able to talk about human rights in a language everyone would understand.
The level of human rights culture is still low in our country, legal traditions are poorly developed. Every year we sought to inspire the audience to learn more about their rights and ways to defend them. Our audience grew every year, we had regular visitors who looked forward to the festival. We also had new people who had just found out about the festival and seemed to have just found out about human rights as well.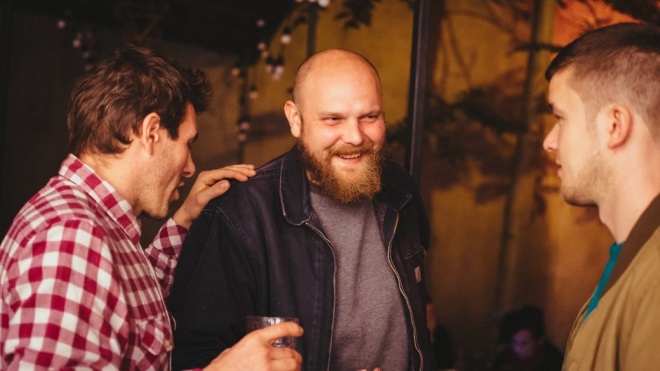 Photo credit: Mykhailo Melnychenko's archive
This year we are also planning a live format. We want to invite documentary filmmakers who are currently working at the frontline or in regions near the frontline. Two regions in Ukraine have been mostly spared by bombings: Chernivtsi Region and Zakarpattia. In our region, only one reserve power station was hit, I think the Russians wanted to show they could reach as far as the Carpathians.
In Uzhgorod I have a strange feeling: this is Ukraine, but we are not being bombed. We rarely hear air raid sirens. There are many people in the streets, I have never seen the embankments of Uzh so full of people. Everyone is talking about the war while pushing baby strollers along the river. In Uzhgorod, you can take a break from the war and recover a bit so you can continue to work. Even in peaceful times, we invited our guests to visit for a few days, because everyone had been to Lviv and few people had been to Uzhgorod: trust me, there are many things to admire here.
Recorded by Inna Kondratyeva