Travelling Docudays UA coordinator Zhanna Solovyova: "We are waiting for films about our victory"
Travelling Docudays UA coordinator Zhanna Solovyova: "We are waiting for films about our victory"
25 December 2022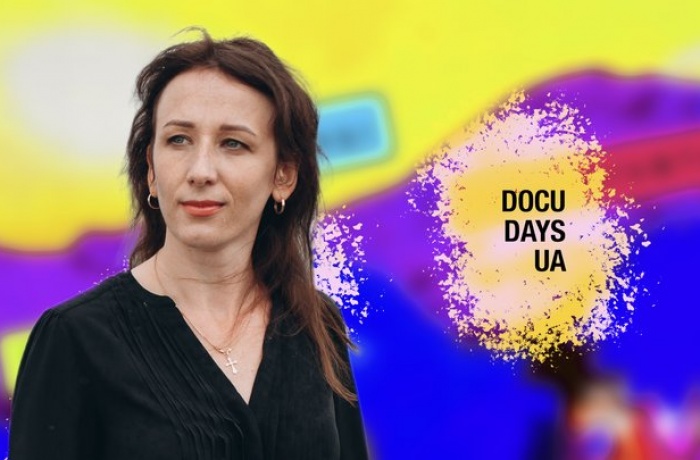 What helps Ukrainians to stop tanks with their bare hands? To fundraise millions for Bayraktar drones? The Travelling Docudays UA and Suspilne Culture have prepared ten stories about the resilience of Ukrainians which will help us find answers to these questions.
This is a conversation with Zhanna Solovyova, Head of the Zhytomyr Community Foundation, regional coordinator of the Travelling Docudays UA International Human Rights Documentary Film Festival in Zhytomyr, CEO of NGO Modern Format.
MORE THAN A TEAM
I was introduced to NGO Docudays in 2009. I think it was because of my civil activism that I've been engaged in since I was a student. I suppose it was noticeable even outside Zhytomyr, because at some point I got a call from Gennady Kofman, the Programme Director of the Docudays UA International Film Festival. He asked me if our organisation would like to join the work on the festival. I was so interested in the opportunity to develop this complex topic which was completely unknown in Zhytomyr at the time that I immediately told my sister, a co-founder of our NGO Modern format, about the Travelling Docudays UA. She is a film aficionado, so she immediately supported my idea to join the festival as regional coordinators in Zhytomyr.
The same year, we organised our first Travelling Docudays UA International Human Rights Documentary Film Festival at the Ukraine Cinema, which is still our constant partner. Back then we had no funding for organising Docudays UA, so we looked for sponsors, involved other partners, did everything we could. My sister, for instance, watched the films and decided which we were going to show at our festival. We still rely on her choice today. And although at the time documentary cinema was a completely unknown art for our fellow Zhytomyrians, we had a practically full house at the very first screening—250 seats! We also engaged dozens of partners and volunteers in organising it.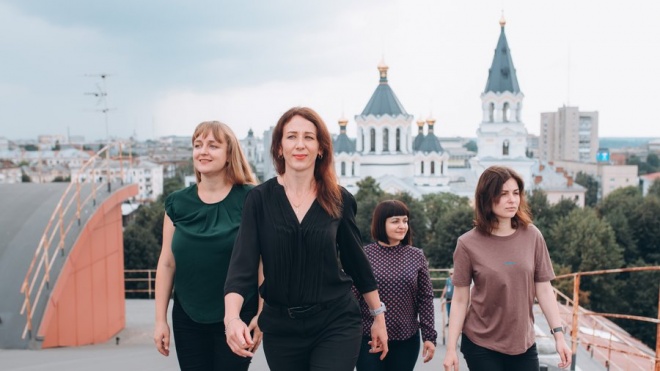 Why were we able to do it on the first try? Our organisation, Modern Format, was rather well-known in Zhytomyr by that time, we did interesting projects, we had many supporters who trusted us. And we tried very hard because we were clearly aware what Docudays UA was and how important it was to match its reputation and values. And it was a new ambitious challenge for us: make a documentary festival in Zhytomyr without financial support! It was both scary and emboldening and inspiring, because we had an example in front of us of how an idea, which did not even have funding initially, grew into the powerful Travelling Festival Network. And we were so inspired by the Travelling Festival's team.
Back then we realised that when so many people who love their work come together, you can have something more than a team, almost a family where support is the foundation of development. We also have regular visitors who come to film screenings every year: from teenagers to elderly people.
"Docudays UA was something that was entrusted to us. And we must do it well."
What do we love documentaries for? When you watch a documentary, you don't know what's going to happen next. That's fascinating! It's also an opportunity to dive deep into a new topic in 60 minutes, learn the most important things about it and expand your worldview. It's a uniquely effective and, at the same time, pleasant format for receiving new information.
And we're so happy to hear when after our screenings people discuss various points of view for a long time, and discover something new. And when you watch these films regularly, sometimes you start fantasising: "What would a documentary about my life be like? Would I be the protagonist in it? What problem would I raise in it? And who would watch it? And what conclusions would people arrive at: Why do I live this way and what do I want to achieve in my life?" I think that I am not the only one who has these thoughts, other participants of our festival have them as well.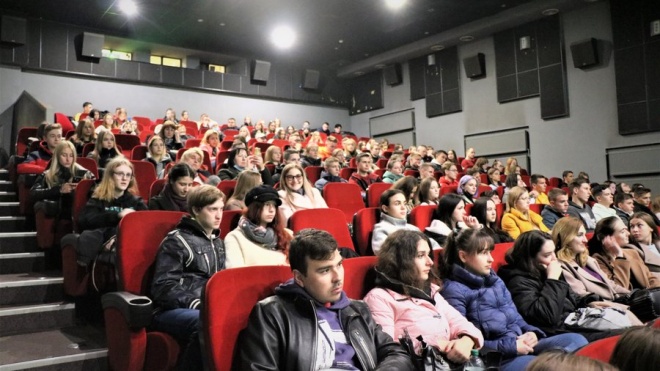 I am so happy that student youth have grown to love documentary films, and now we also work with colleges, universities and the Department of Education in Zhytomyr. The times when we had to ask young people to attend our events have long passed. Now we just make an announcement on Facebook, and young people come to our screenings on their own…
Our festival lasts a week, sometimes even 10 days. We realise that we can't always have a full house at a cinema with 250 seats. Although there have been cases when the audience was so large that young people had to sit on the stairs. People like the films whose subjects correlate in some way with a situation that has happened in their life. I remember a moment when after the film about the Bellingcat investigation of the downing of the Malaysian Airlines flight people just sat there and cried. They were so struck by the life stories of the people who lost family members on that plane.
Before the screening, I knew nothing about Bellingcat, an organisation that specialises in fact checking and open source intelligence. I was so impressed by how specialists all over the world come together and work to restore justice, to reveal the truth. And now, when our people have been scattered all around the world by the war, we've also learned to come together and work for our victory.
We once watched the film Silent War about refugees from Syria and about why they fled their homes. These women's lives were broken after they were raped by soldiers. After this, a woman in Syria is no longer seen as sacred, so if she returns home, her family will kill her. So the women had to flee and become refugees. When I read on the news what Russian military occupiers did in Bucha and Hostomel, that film about Syria was like a picture of the events that were happening literally just a few kilometres from Zhytomyr. And Syria was also destroyed by Russians… I think that the next Docudays UA festival will be about our country during the war and about what people have experienced.
Over the years, the interest in documentary cinema in Zhytomyr has grown so much that, in addition to the festival, our colleague Lina Babych has created a Docudays UA film club, and we got the opportunity to screen and discuss documentaries all year round, and not just during the Travelling Festival.
DO WHAT YOU CAN DO BEST
When the war began, I panicked. I had nowhere to go, and I didn't want to. I was sure that Zhytomyr would not be occupied. A friend of mine called, invited me to stay in his basement, I asked if I could also take my family. And so we lived all together in the basement for a few weeks.
There, in the basement, I asked myself through tears: "What am I able to do? I can't shoot… But I can organise people, inspire them, bring them together, and find money to fund good causes! And now the most important good cause is helping the army." I remembered the Zhytomyr Community Foundation, which had not been working at its full capacity up until then, and I thought: "Its time has come!"
I called the deputy mayor and said, "Svitlana, I have an idea! I take the Zhytomyr Community Foundation, open accounts and start fundraising." And she supported me. Back then I didn't have a clear understanding what exactly I should collect that money for, but I knew for sure it was for the victory.
In the first three months of the war we collected 8,000,000 UAH, then another 5,000,000. In 4 months, we collected 13.2 million! And it was not money from foreign donors, it was sent by regular people, everyone contributed whatever they could. If we also count the humanitarian aid, the amount will be bigger. The Netherlands alone delivered useful items for our warriors in the amount of 37,000 euros.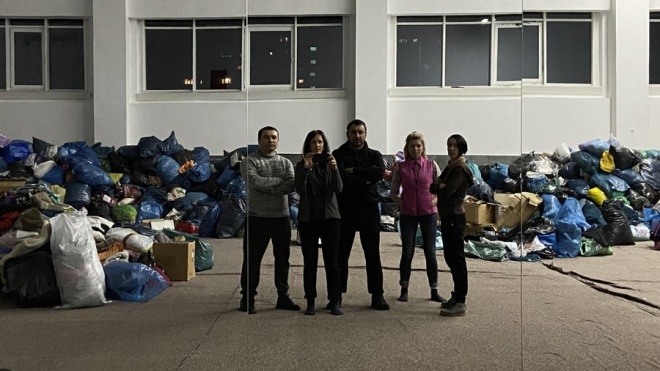 The war has united people. We gave the money to the Territorial Defence, to the needs of the military, the victims of the war, and the internally displaced. We spent over 9,000,000 on sewing bulletproof vests, devices for the military, buying cars and repairing them, on medical items. We sent a part of the funds to the Azov Regiment. Another part was used to buy water filters for Mykolayiv, because they had water supply problems there. We bought construction materials for Yahidne in Chernihiv Region, because the village was bombed so much that people stayed in the school basement for over a month.
By the way, we have received more than 10 statements of gratitude from various military units for our work, and one medal from the Horbachevsky Regional Clinical Hospital in Zhytomyr for the humanitarian aid we provided and for buying them equipment.
And while I was looking for funding and coordinating volunteers in Zhytomyr, our colleague Lina Babych, who has been in evacuation in Germany since March, became a Docudays UA ambassador abroad. She opened a film club at a refugee centre, and now she successfully organises film screenings for Ukrainians who had to leave for Germany due to the war. And this year we will have a Travelling Festival in Zhytomyr after all. We already dream of seeing films about our victory on the screens.
Interview recorded by Khrystyna Biliakovska.