RIGHTS NOW! Human rights programme at the 19th Travelling Docudays UA
RIGHTS NOW! Human rights programme at the 19th Travelling Docudays UA
27 October 2022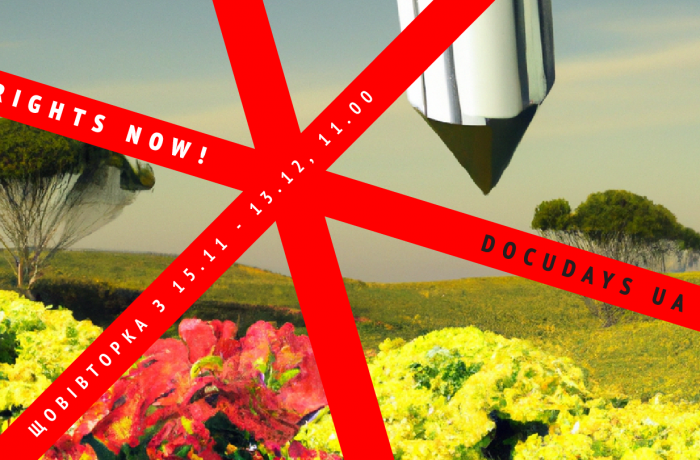 RIGHTS NOW!
Human rights programme at the 19th Travelling Docudays UA
The 19th Travelling Docudays UA International Human Rights Documentary Film Festival will last from 12 November to 30 December. The events of the human rights programme RIGHTS NOW! will also be held during the festival. These are five live conversations where you can discuss and reflect on the consequences of the war together with experts. Some events are thematically close to films from the Travelling Docudays UA film collection.
The programme will be opened on November 15 with the talk "Winter is coming! How the energy crisis affects the warmth of our homes". The way we'll be keeping warm this winter may have a negative impact on the environment. So let's talk about how the war changes environmental trends, as well as the life of Ukrainians during the most intense phase of the heating season.
The story of a full-scale war unfolds online. On 22 November, during the conversation "War archives: how to qualitatively record and preserve history?" we will learn how to tell the truth about Russian aggression with the help of gadgets.
The impact of war on the environment is difficult to overestimate. Russia's environmental crimes have already caused millions of dollars in damage to our country. On 29 November, the discussion "War for water. How to save Ukrainian reservoirs from the consequences of hostilities?" will complement the environmental part of the RIGHTS NOW!
The reality of war challenges us. And yet, every day, Ukrainians do everything they can to bring victory closer: they fight at the frontline, survive the occupation, continue to work and pay taxes, volunteer, and help others. On 6 December, we will talk about what helps us hold on, unite and win in the dialogue "Unbreakable: what will Ukrainian society be like after victory?"
A conversation within the framework of the Nationwide Campaign Together for Safe Childbirth! will close RIGHTS NOW! Human rights programme. On 13 December, during the discussion "Pregnancy and childbirth: what should change after the war," we will talk about the experience that should be taken into account in the post-war reconstruction.
You can join the RIGHTS NOW! events and watch documentaries from the 19th Travelling Docudays UA film programme at the
DOCUSPACE
online cinema. The events will also be broadcast on the Facebook page of the Docudays UA International Human Rights Documentary Film Festival.