A week of travelling screenings has ended in Crimea
A week of travelling screenings has ended in Crimea
14 October 2014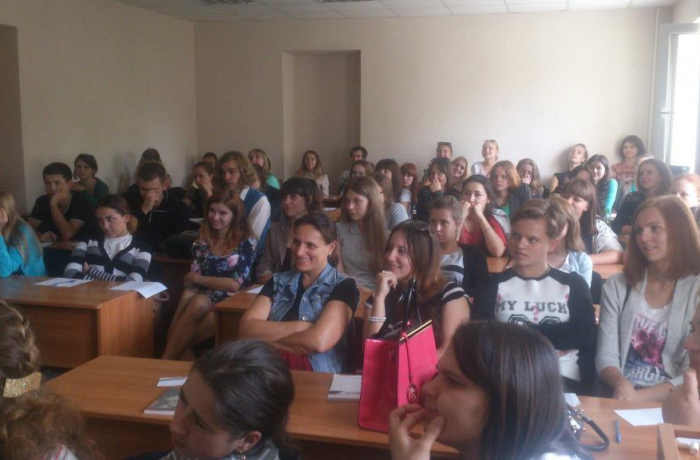 The screenings of Travelling Docudays UA started on October 7 in Crimea. For obvious reasons, the festival started without a traditional press conference, vivid posters or solemn speeches. Still, there were a lot of participants – schools, Crimean colleges, houses of culture, and libraries.
The first week is now finished, and we can draw some conclusions.
The first viewers of the festival were the students of the Crimean department of Kyiv National University of Culture and Arts. Future theatre and variety directors watched and discussed Srulik by Noa Levin and Filmstripe by John Blouin at the film media centre of the Crimean republican enterprise Kinovideoprokat.
On October 8–10, the screenings took place at the Philosophy Faculty of the Crimean Federal University for future experts in the fields of culture, politics, and religion. They watched Joanna by Aneta Kopacz, Life in Paradise – Illegals in the Neighborhood by Roman Vital, Café Voyage by Roman Bondarchuk and Srulik by Noa Levin. The students actively discussed the films and shared their thoughts on the problem of migration, since it is a sore subject for many of them. Roman Bondarchuk's film inspired reflections about personal inner world and the values of human existence. The most active discussion was provoked by the film Joanna. The students were impressed by the woman's courage and said that despite the tragic ending, the film leaves a positive impression.
Joanna was also shown to future film and theatre directors from the Crimean department of Kyiv National University of Culture and Arts at Kinovideoprokat film media centre on October 10. After the discussion they got an assignment to write a director's review for the film. Now we are eagerly awaiting the results.
The same day, there was also a screening at the Journalism Faculty of the Crimean Federal University. Students watched and actively discussed The Last Limousine by Darya Khlyostkina.
As part of the Travelling Festival, on October 10–11 at Kinovideoprokat film media centre in Simferopol, there was a seminar training about methods of discussing documentary films on human rights for teachers, librarians, house of culture methodologists from Yalta, Bakhchysarai, Armyansk, Sak, and Simferopol, as well as Sovietskyi, Krasnohvardiysk, Nyzhnyohirsk, Bakhchysarai, Dzhankoy, Pervomaysk, Simferopol, and Krasnoperekopsk districts (altogether 37 participants). Two days of fruitful work included theory and practice of methods of discussing films both as cinematic works and from the perspective of human rights issues. Participants of the seminar tried out a scenario for the film ABC which everyone loved. Then they watched Liza, Go Home! by Oksana Buraja and created projects of the film discussion both with high school students and parents. The film impressed everyone, and they chose it for screenings in their schools, libraries, and houses of culture. The participants left the seminar armed with new skills of creating scenarios for film discussions and a methodology of shaping critical thinking.