Travelling Docudays UA started in Mykolaiv with a sell-out
Travelling Docudays UA started in Mykolaiv with a sell-out
04 November 2014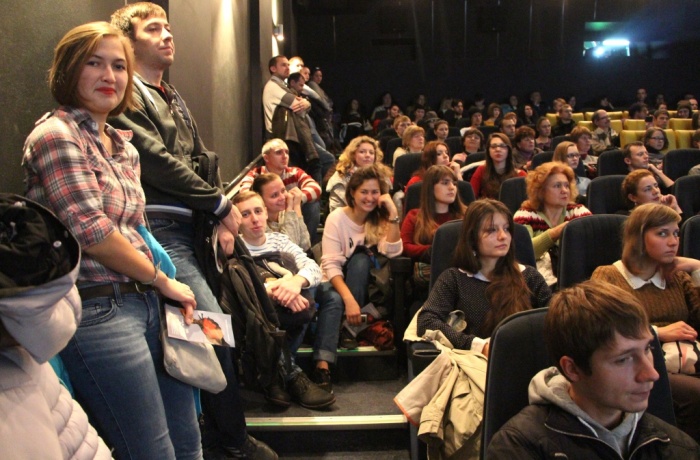 Travelling Docudays UA in Mykolaiv takes place for the second year in a row. This year it grew bigger and wider in geography: except the regional center documentary films will also be screened to residents of Pervomaisk, Yuzhnoukrainsk, Voznesensk and the village of Kutsurub in Ochakivsky Raion.
The Festival was opened on 1 November in "Multiplex" cinema. Spectators were greeted by the Deputy Head of Mykolaiv Regional State Administration Oksana Yanishevska, City Mayor Yuriy Hranaturov, a festival jury member Natalka Zubar and organizers in Mykolaiv – Olena Kabashna and Andriy Lokhmatov.
«I want to emphasize that documentary films play a great educational role. We enjoy a great opportunity to invite all Mykolaivites to documentary films screenings within Docudays UA Travelling Festival. This festival and cinema really change consciousness. It's difficult to compare feature films with documentaries as the latter are films which really depict every day life, they focus exceptionally on the truth of our lives", - spoke Vice-governor Oksana Yanishevska.
«Documentary cinema is a challenging and intellectual genre. It contains a great number of analytics, facts and also director's special vision. In documentary cinema the director is the most important person. Whereas in feature films much depends on actors and budget,' – remarked City Mayor Yuriy Hranaturov. Later in that day there was a screening of the film "Putin's games" by an Israeli director Aleksander Gelentev which struck the audience by corruption scale and pitiless attitude towards Sochi local residents' rights during Winter Olympic Games – 2014.
The second festival day didn't lose the speed: the film "The Last limousine"caused deep reflexion among the audience while Ukrainian film "Positive" and Polish "A Diary of a Journey" evoked goodhearted feelings and inspiration.
This year Docudays UA Travelling Festival in Mykolayivschyna will last one week – till 7 November. Screenings will take place in all four town Universities, Culture Palace "Youth", the Kropyvnytskiy library, a Lviv tavern Schpatzer and will be closed at 19.00 in the concert-hall "Youth" with the film "The Southern border" directed by Serhiy Lysenko.
---