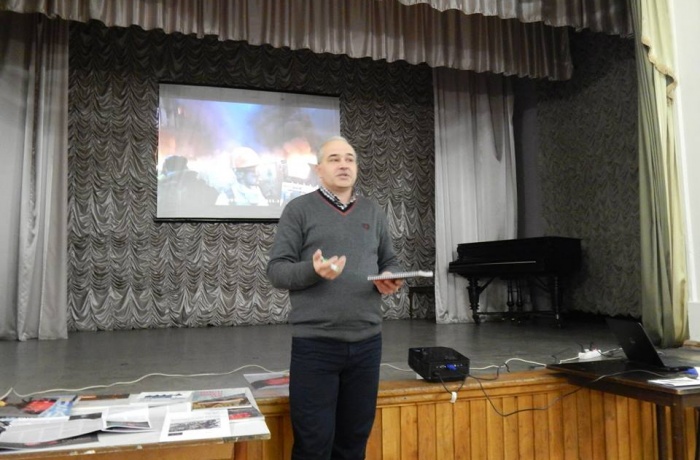 On 2 November in Zaporizhzhya in the art centre "Art Space" took place the 11th International Travelling Film Festival on human rights – Docuday UA which will last till 21 November – i.e. Maidan anniversary.
The opening film was chosen «Euromaidan. Rough cut» and the Heavenly Hundred was respected with a minute of silence. "It is very important to remember with what started Maidan. The Festival is important right now, as during the war human values as well as human rights significance is brought to nought, - opened the event Mykola Kolodyazhniy, one of the event organizers. – We have no right to forget what the Maidan Heroes fell for».
The audience shared their impressions in a whisper not taking the eyes from the screen, as Maidan for each Ukrainian became a part of life and a tragedy at the same time. After screening everyone was invited to express his or her point of view.
– Such films must be preserved and shown to people again and again. This will keep people from hatred and violence, - it's hard to disagree with Nellya Maskymivna.
– Our country and our town are in danger now. But be sure, those people who were at Maidan and who are not indifferent to the events that took place there will be able to repel any enemy, - is confident the head of the cinema club "Elevation" Igor Garmash (in the picture).
Travelling Docudays UA is the only world festival which covers the whole Ukraine, 231 places. In Zaporizhzhya it takes place for the 6th time already, however, for the first time this year it became possible to show films in the other towns of the region as well – Vilnyansk, Vasylivtsy, Orikhiv, Tokmak, Berdyansk and Energodar.
Source: ngo.zp.ua