Who Owns the Urban Space: Chernihiv
Who Owns the Urban Space: Chernihiv
18 December 2017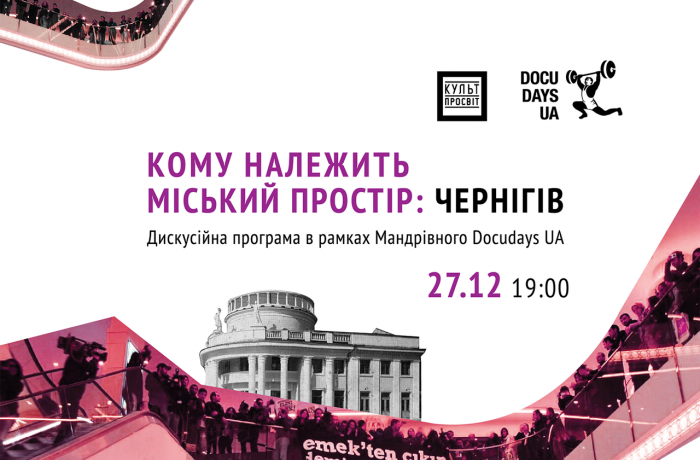 This year, the program of the Traveling Docudays UA festival includes the film Audience Emancipated: The Struggle for the Emek Movie Theater. The history of Istanbul protests is not just a struggle for an iconic place which is important for the citizens. These protests were political, in a wider sense, because they were concerned with the question, Who owns the urban space? They inspired us to start a conversation about the Ukrainian context. By involving local experts, artists, urban researchers, and activists in the discussion, we want to study how public spaces develop in Ukrainian cities, and who influences the changes in public space.
On December 27, at 7 p.m., in Chernihiv we invite you to the lecture by the art critic Yevhenia Moliar (Kyiv) and the screening of the film Audience Emancipated: The Struggle for the Emek Movie Theater.
Location: Illusion (6 Museum str.)
The lecture by the art critic Yevhenia Moliar (Kyiv) will be about the development of public space and the experience of revitalization of film theaters by the initiative DE NE DE.
What is the role of public space in city life and who influences its development? We will discuss the regulation of the activities of different agents in the public space, as well as the involvement of communities in making decisions about changes in this space. The conversation is not only about the channels of communication between city governments and the residents, but also about the ways in which citizens can fight for the right to be heard.
The reason for miscommunication between the government and the community is not only and not so much corruption and imperfect legislation, as the tectonic fault in the perception of public space. For city officials, development of public spaces equals decoration. But the functions of different places slip out of their attention.
However, today, we are witnessing not just a transformation of public space, but also a change in attitudes to it, in the ways of using it. The awareness of individual responsibility for the commons is forming. And that is why the community participates more and more actively in the processes happening in the urban environment, and fights in many ways for the chance to be heard.
___
Yevhenia Moliar is a participant of the self-organized initiative DE NE DE which studies the cultural and infrastructural heritage of the Soviet period. By focusing on the urban transformations during decommunization, DE NE DE offers a critical reconsideration of the Soviet heritage.
FREE ENTRY