"The problem can only be solved by raising awareness about it." The Travelling Docudays UA in Uzhgorod published the photos by the participants of the Teenagers vs. Cyberbullying competition
"The problem can only be solved by raising awareness about it." The Travelling Docudays UA in Uzhgorod published the photos by the participants of the Teenagers vs. Cyberbullying competition
10 December 2020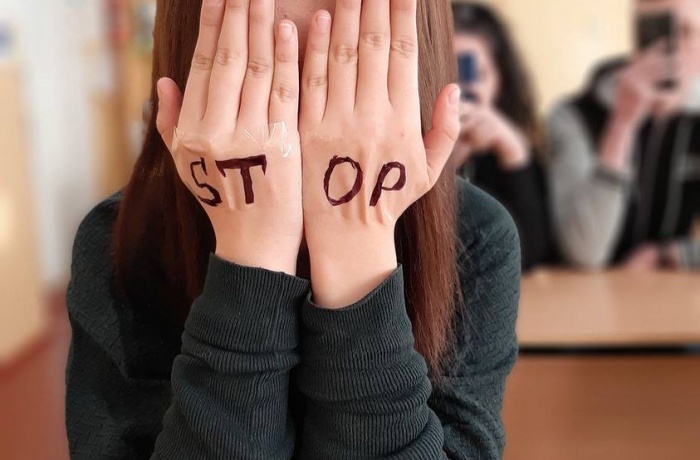 As a part of the Travelling Docudays UA, Uzhgorod hosted a photography competition titled Teenagers vs. Bullying. Teenagers shared their thoughts on the danger of online bullying and their own stories of opposing bullying on the internet. You can view the participants' work on the Facebook page of the Travelling Docudays UA in Uzhgorod.
The photography competition worked as art therapy and helped many participants to comprehend their own experience of cyberbullying. Diana Liakhova, a student at the Grendzha-Donsky School No. 6, noted in the caption to her Cybercriminal photo: "It feels like you're suffocating. A stranger has snuck up to you and blocked the air… That is how I feel about the consequences of cyberbullying!"
Looking for ways to protect herself and the victims from bullying, Stella Babuka, a student at the Uzhgorod Grammar School No. 16 and a participant of the competition, argues that respect can become the key to solving the problem, because, "despite our appearance and wealth, we are all people first of all, and we have equal rights in society."
Victims of bullying and threats often face the problem and the abusers alone. After observing this tendency among her peers, Sofia Fedornak, a student in Grade 9C at the Uzhgorod School No. 12 and the author of From Bullying to Ignoring, noted: "Do not be silent. The problem can only be solved by raising awareness about it."
On 10 December at 4:00 p.m., the online exhibition of the photos of competition participants will be opened. At the event, adults and children will talk about the phenomenon of cyberbullying and online safety in reference to the photos.