The 19th Travelling Docudays UA in Volyn began with a conversation about unconquered Kherson
The 19th Travelling Docudays UA in Volyn began with a conversation about unconquered Kherson
08 December 2022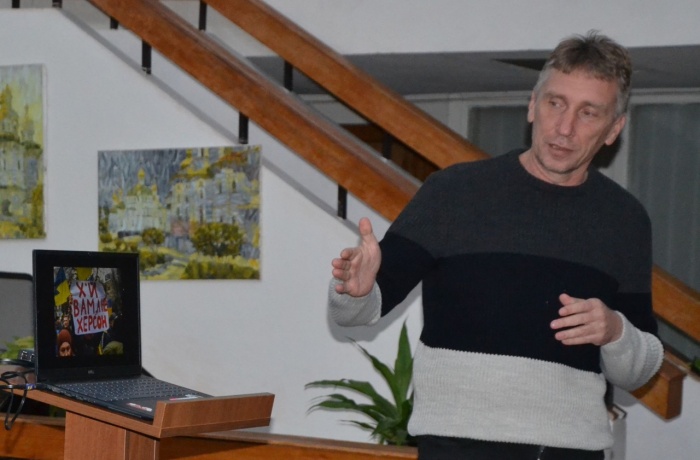 This year's 19th Travelling Docudays UA Festival in Volyn, which started on 3 December in the Volyn Olena Pchilka State Regional Universal Scientific Library, was opened by Oleksandr Korniakov's photo exhibition "Unconquered Kherson".
The author, who was in the city until 10 August, said that living in the occupation was very difficult and even scary because you can be captured not as a result of participating in protests but because of denunciation. That is why Oleksandr said he does not work anywhere, although he secretly took pictures on his mobile phone. He saved the photo on Google Drive, then deleted it from the phone and logged out of the account.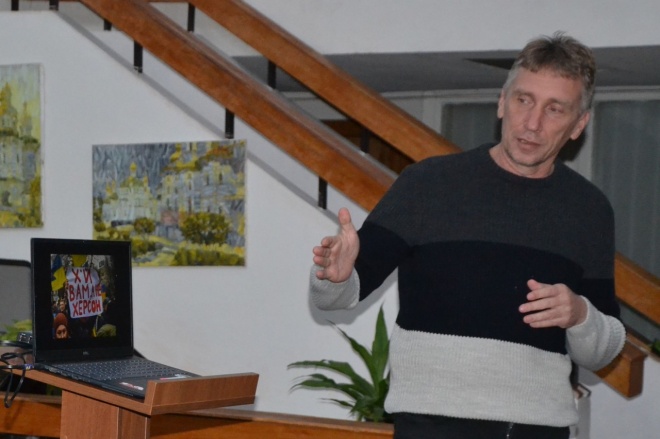 Opening of the 19th Travelling Docudays UA Festival in Volyn
"People went to the protests en masse until they were dispersed with gas. But even after that protest continued, however, there were fewer people. No less than 80% of Kherson residents went to bed with the thought: if the city wasn't liberated today, then it'll be liberated tomorrow. People were especially happy when they heard shots because they understood that it was the Ukrainian military who was shooting. And when Kherson was liberated, the children went to Freedom Square with their parents," said Oleksandr.
"With this photo exhibition, we want to show why Kherson is a Ukrainian city. The joke that the Ukrainian military cannot reach the city centre because they are surrounded by people is not a joke," noted Ilona Korotitsyna, director of the "Vhory" Media Platform. At the same time, she emphasised that today people in Kherson live in very difficult conditions: without water, electricity, communication, housing, or under shelling. Humanitarian aid is coming in, but the amount of requests for help is huge, so any support would be appreciated.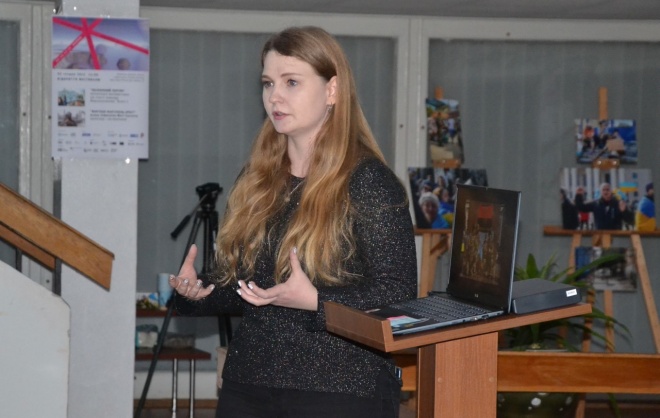 Opening of the 19th Travelling Docudays UA Festival in Volyn
Polina, a woman from Kherson who now lives in Lutsk, also believes in victory. She comes from Chaplynka, she does not give her last name for security reasons because her parents stayed there. However, after the liberation of Kherson, her hope for the liberation of her native home grows stronger. She told the audience about what she felt and experienced in her poem.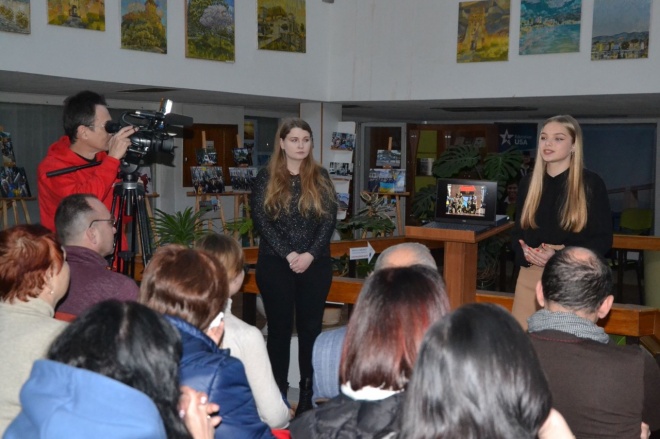 Opening of the 19th Travelling Docudays UA Festival in Volyn
The opening of the exhibition was followed by a screening of the film Fortress Mariupol. Orest directed Yuliia Hontaruk and a conversation about the resilience of Ukrainians in the struggle for freedom.
Journalist and volunteer Myroslav Vatashchuk is known not only in Volyn but also in Ukraine as the initiator and founder of the "Media-coffee" project. With the help of his initiative, more than 2.6 million UAH were collected for the needs of the army. He sees the difference between the volunteering of the Maidan period/the beginning of the war and today in that "then a small group of people volunteered, and now the whole country volunteers." According to him, today, it is not a problem to collect money for anything, be it a thermographic camera or Bayraktar.
"We are all broken because there are many methods for this, including psychological ones, but the question is how much we are able to fight. And we are capable!", Myroslav is convinced.
"For the past few years, volunteering to help the army has quieted down a bit. But when the full-scale war began, I was immediately ready to join the work," said the head of the NGO Avtomaidan Volyn, Oleksandra Lysak. "My husband tried to hold me back because he remembers well how much effort it took after 2014. But I said that I had not changed. I see how invincibility runs like a thread through all the people, many of whom I would never otherwise have met. Today, my friends weave nets, sew combat unloading vests, underwear, look for thermographic cameras, and we take all this to the front. The way you are greeted there motivates you to live on and to do what you do with even more enthusiasm."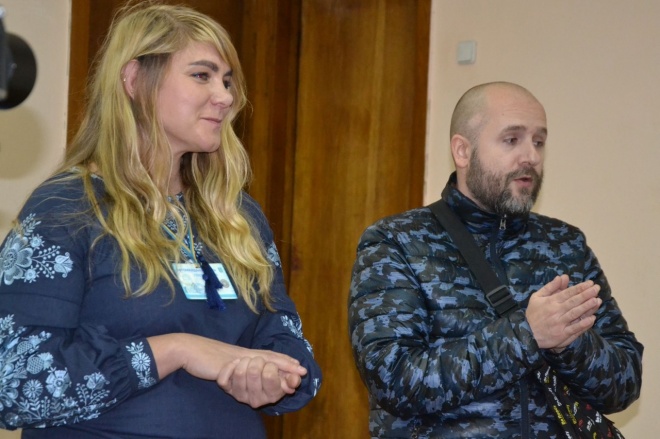 Opening of the 19th Travelling Docudays UA Festival in Volyn
Writer: Bohdana Stelmakh, the coordinator of Travelling Docudays UA in Volyn