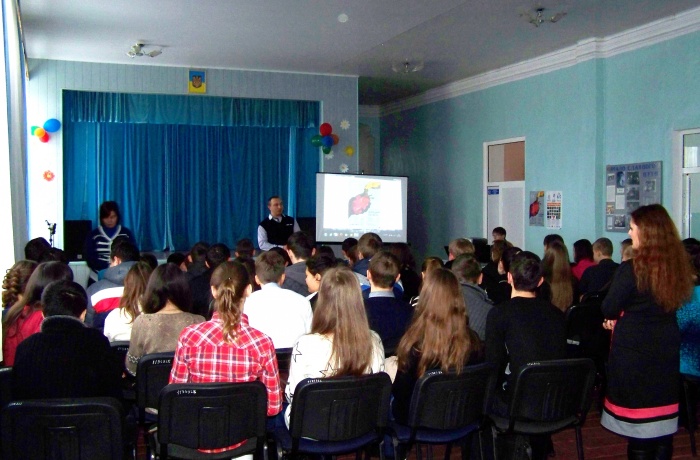 For the first time Travelling Docudays UA took place in the near-front Volodarskiy district Donetsk region. Pupils and teachers of secondary school № 1 and Sofiya gymnasium met the festival with a full house.
Two films were chosen by regional partners of the Travelling Festival. The first is Liza, go home! directed by Oksana Buraja. The film tells about a girl who lives with alcoholic-parents.
What is most remarkable about this sensitive, poetic short film is that it gets to the heart of a terrible situation without surrendering to its darkness, only a desire to capture the adult world through innocent eyes as faithfully as possible. After screening there was a discussion. Children were very interested why the child is not asked if she wants to live in such conditions and with such parents. Teachers discussed the problem of indifference of school and social service. In our district school administration and teachers take care of such families, said one of the teachers.
The second film screened was The Southern Border directed by Sergey Lysenko. The audience was unanimous that the state fails to perform its functions. And actually volunteers do what state establishments should have done. Children said that Ukrainian military came to their school and spoke about their life and situation in the country. The most terrible is to hear how children use such words as war, weapon, enemy. When the screening was over teachers expressed their desire to meet more and discuss human rights with children by means of cinema. It should be noted that such events are considered more topical when the shots proceed.