1,500 pupils visited Travelling Docudays UA in Lviv region
1,500 pupils visited Travelling Docudays UA in Lviv region
14 November 2015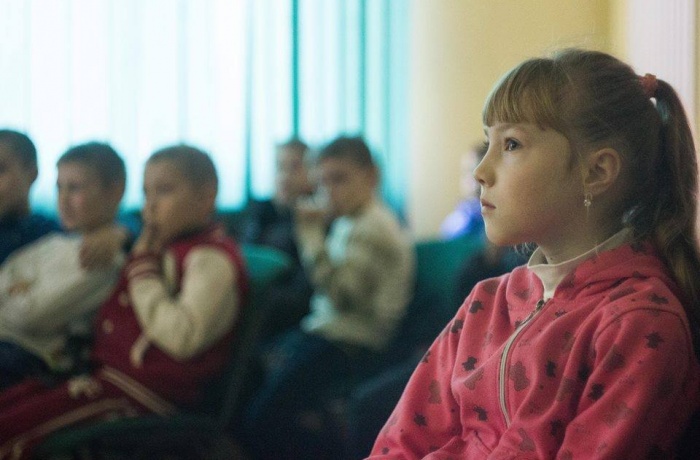 This year almost 1,500 upper-form pupils visited Travelling Docudays UA. For the first time the festival presented special program DOCU/KIDS, where children and teenagers act as main characters who face adult problems and learn to handle them. However, some pupils were also offered films from other festival programs about survival in difficult conditions, drug addiction and consequences of irresponsible behavior.
During a week the audience had a chance to watch three films: Broken Branches, Kacey Mottet Klein, Birth of an Actor and Gabriel Reports on the World Cup. Each of these films found its admirers and opponents.
The most cautious reaction was caused by the film Broken Branches directed by Ayala Sharot. Teachers were asking with surprise: "Why about Jews and the Holocaust, but not about Ukrainians and Holodomor?». On the other hand the children were excited by documental animation. This film received the largest number of feedback and the last screening finished with applause.
All liked a story about a Brazilian boy called Gabriel Reports on the World Cup directed by Els van Driel, this film was the most popular. The children sympathized with the main character and admired his attempts to improve the life of other people, some children even started dancing to the film music. It was probably the only film while watching which the children were not playing with their mobile phones. It happened so that pupils from two classes came to one screening which made more than 50 people. Some were sitting on chairs, others were lying on ottomen on the floor a meter from the screen. This created some special atmosphere of proximity. The children were sincerely sharing their impressions and emotions which were overwhelming them.
The third film Kacey Mottet Klein, Birth of an Actor was better perceived by senior audience. They were actively disputing the work of children actors, the influence of acting on children's mentality and eagerly discussing the realism of emotions of the main character, for a long time the children couldn't say good-bye to the images created by Ursula Meier. In the whole more than 270 spectators visited the weekly screening in the Central city library named after Lesya Ukrainka.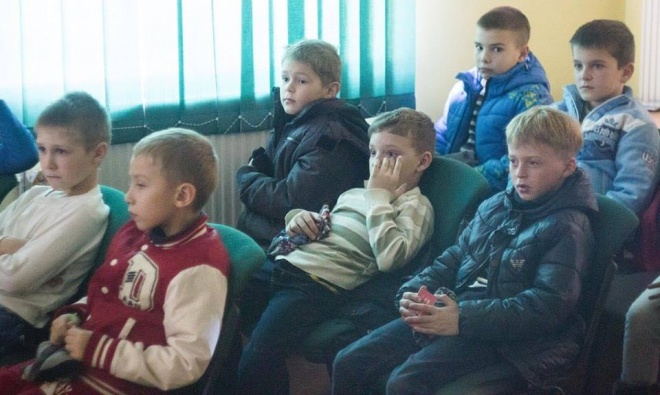 As far as children's impressions from films from other programs are concerned, children's reaction to the film Starting Point should be mentioned. The screening took place in the premises of a library branch №43 Central library system where 8th and 9th classes pupils from Lviv secondary school № 28 were invited. This is what Oleg Ilnytsiy, a moderator of the discussion says: "Pupils were immensely interested in the plot of the film paying attention to questions of human freedom in his or her actions and their consequences, the price of a mistake – not only for a person himself or herself but also for people surrounding, about staying human in communication with family, relatives and all people near us. Besides the example of a courageous and cheerful handicapped woman enabled the children to re-consider value of routine moments".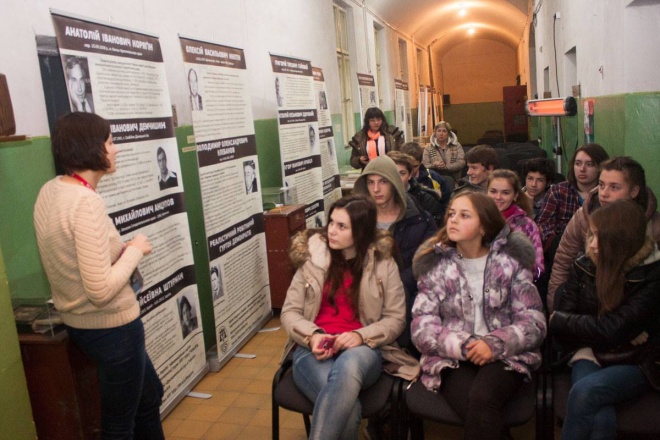 It was also interesting to observe children's reaction in the cinema "Lvivskiy film centre". Screenings in libraries and a prison-museum tuned young spectators to educational mood, whereas a cinema with a big screen and high quality sound was considered as a play-ground. Of course this interfered pupils from serious discussion. However, in general, there were some interesting and original discussions in this location, too. Liliya Megedyn, a moderator of several events in "Lvivskiy film centre" noticed that the film Gabriel Reports on the World Cup helped the audience to see the reverse side of the coin. In mass media all seems very solemn and bright. Fans are looking forward for an event without considering that behind cameras there are problems which require urgent solution. Besides the pupils were eagerly discussing children's rights violation. First of all they mentioned right to shelter, right to rest and leisure and also to personal opinion which adults must take into account if it goes about children's interests.
It is also important for pupils' audience that both film characters Gabriel and Wesley are of their age. They don't wait for help and financing from the government, sponsors and FIFA, on the contrary they take the initiative and organize leisure for children by their own forces.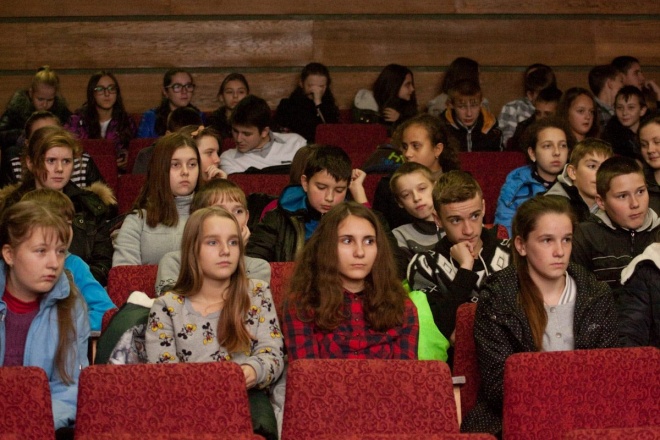 On the other hand according to Liliya Megedyn such films as Broken Branches help to better understand and imagine the fate of a person during an armed conflict, think about reasons for human sufferings and their possible prevention. It was the first time that many spectators as well as I watched an animated documentary. After the screening the pupils participated in the guessing game "Attentive spectator". I'm sure the details shown by the film director will stay in our memory for a long time, shares she her opinion. There were many volunteers to answer the question what human rights are violated during armed conflicts. The first answer was – right to life. Right to love and care, medical health, personal opinion, freedom of religion, education, leisure, etc. were also mentioned."
At the beginning not all the audience felt like perceiving such important and serious information, however after screening they actively joined both the guessing game and the discussion. Together we managed to explain the meaning of the notion "crime against humanity", recollected international organizations and documents which protect children's rights at present. The film «Broken Branches» made us think again about consequences of terrible inhuman ideas and inactivity of surrounding people. This tragedy concerns not only the Jews, this is about humiliating human dignity.
Prepared by Nina Khoma, a Travelling Docudays UA coordinator in Lviv
Photo: Dmytro Shatskyi and Artem Kovalevski