Who Owns the Urban Space: Kharkiv
Who Owns the Urban Space: Kharkiv
20 November 2017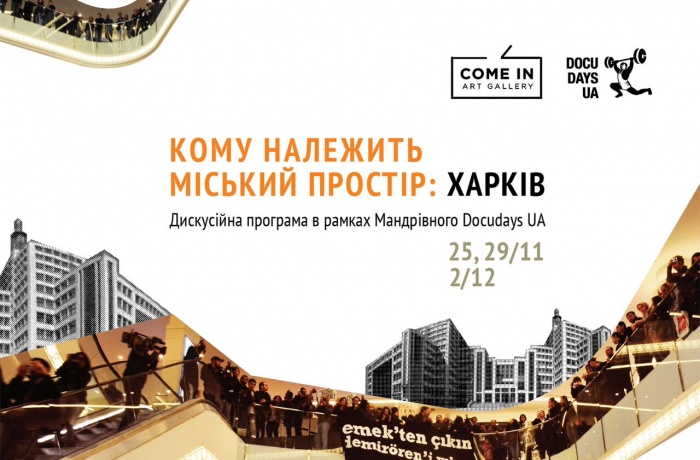 This year, the program of the Traveling Docudays UA festival includes the film Audience Emancipated: The Struggle for the Emek Movie Theater. The history of Istanbul protests is not just a struggle for an iconic place which is important for the citizens. These protests were political, in a wider sense, because they were concerned with the question, Who owns the urban space?
They inspired us to start a conversation about the Ukrainian context. By involving local experts, artists, urban researchers, and activists in the discussion, we want to study how public spaces develop in Ukrainian cities, and who influences the changes in public space.
The discussion program in Kharkiv will include:
November 25, 7 p.m.
Screening of the film Audience Emancipated: The Struggle for the Emek Movie Theater. Discussion of the Kharkiv context. Meeting with activists about the struggle for the Bommer movie theater in Kharkiv.
The film does not just present a story of protests against the demolition of a historical film theater building in Istanbul. It is also about the struggle for commercialization of public space, and about its appropriation by big capital: the plan was to build another shopping mall on the theater's location. Let us remember that it was the citizens' desire to realize their "right to the city" that sparked the wave of protests across Turkey in 2013, namely the opposition on Taksim Square against cutting down the Gezi Park.
This story is familiar to the residents of Kharkiv, but in our case, fortunately, it had a positive ending. Several years ago students struggled for the right to preserving a cultural venue and a historical building of the Bommer theater — and won. The screening will be followed by a discussion with activists.
Location: 8½ film theater, Donets-Zakharzhevskyi str., 6/8
November 29, 7 p.m.
Discussion "Kharkiv Modernism: Architectural Heritage and Memory Politics"
How do ideological processes and today's memory policies affect the fact that the architecture of Soviet modernism is not recognized as cultural heritage, both officially and in the public perception? Invisible for the locals, these buildings often suffer from uncontrolled actions of their owners. The discussion will be about the key buildings in the Kharkiv context and about the initiatives that aim to protect them.
Participants:
- Oleksandra Naryzhna, an architect, and urban researcher; the head of the NGO City Reforms; the organizer and manager of projects aimed to transform Kharkiv urban space.
- Dmytro Bulakh, a member of the Kharkiv Regional Council.
- Anastasia Paliy, an architect, member of the City Reforms team.
Moderator: Yevhenia Hubkina, researcher, architect, curator.
Location: COME IN Gallery, Danylevskyi str., 26
December 2, 7 p.m.
When Art Appropriates Space. Conversation with the artist Hamlet Zinkovskyi and the photographer Ihor Chekachkov. Moderated by Viktoria Bavykina, a curator, and an art critic.
What forms can the struggle for public space take? Who appropriates it, and how can artists do it? How does artwork with space through criticism of changes, interaction with the place, observation or intervention?
Location: COME IN Gallery, Danylevskyi str., 26